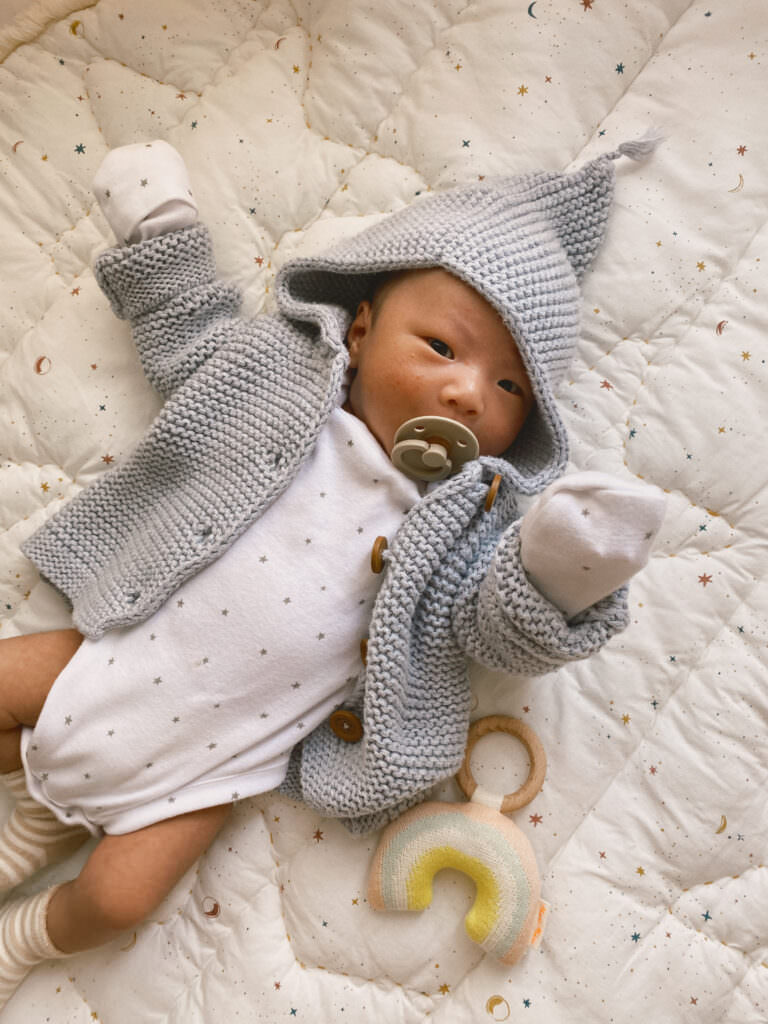 When I was nine months pregnant I remember feeling SO overwhelmed by the amount of baby stuff there was out there. I had no clue how many onesies I should get, how many baby bottles, what stroller, crib, mattress, bibs, like omg the list went on…
For this particular blog post I just wanted to highlight a few key products so, besides the obvious things like diapers and wipes, these are my notes and suggestions for any new parent. If you want a more thorough list of all the products I use and love, I created a doc that you can access here!
After a lot of trial and error here's what worked for us:
Onesies- I went with five newborn onesies and five 0-3 onesies. This was plenty. I did a mix of long onesies (that cover the arms and legs) and short onesies. Since it's pretty hot in LA right now he primarily wears the short onesies. For the long onesies, I bought the Magnetic Me ones. They are SO easy to use especially at night when you're doing nighttime feedings. Trust me on this, you'll thank me later. They are a little pricier so I bought three and that was good enough. For the short onesies, I bought this one (which is the more affordable line by Hanna Anderson). Definitely one of my fave baby brands. Her baby clothes are soft, organic, durable, and so luxe. I also bought a few from the organic line by H&M and Gap!
Baby Bottles- This has been a journey for us. We have gone through six different brands at this point and since Cassian has a very small mouth we found that Dr Brown's Glass bottles worked best for him. I do prefer glass when it comes to baby bottles (it's totally preference) so I'm happy with the ones we use. We also liked the Comotomo ones and the Philips Avent glass bottles as well but Cassian does the best with the Dr Browns since it's a smaller nipple and also prevents gas.
Baby Brezza– This is so necessary! I can't imagine life without it, literally. It was on backorder for a month so that one month we were scooping formula manually. It wasn't bad but after using the Brezza, we can't go back lol. There are 3 temperature settings and 9 different oz. levels which make everything easier especially when you have a crying baby, this thing is so fast. I would HIGHLY recommend this if you are planning on using formula or supplementing with formula. Add this to your baby registry, DO IT NOW 😉
Burp cloths/Bibs– You'll need lots of these! I bought two packs of these and they are the only things we use every day for everything. Split up, burps, spills, I mean everything. I also bought the bigger versions of these but it's completely unnecessary at this time and I find these littles ones are just easier to use. As for bibs, he's too little to actually wear a bib so all the bibs we bought, we haven't touched yet.
Swaddle Blankets– The biggest waste of money ever hah! I bought so many because they are just pretty and super cute. But we never ever use them. I probably used two and that's about it. I use it to cover his car seat from the sun or use it as a shield to protect him when we are out in public. But other than that we don't use these at all. If we are going to swaddle him, we use this one. It's the EASIEST and it's the best at keeping him swaddled at least from all the other ones we tried out. Get three of these swaddles and you'll be good. If you want those cute pretty swaddles as well then get like 2-3 max.
Baby detergent- This is the one everyone buys, most popular on Amazon. I bought it and it has the strongest fragrance ever. Smells good but gave me a headache so I quickly changed it to this one. It's a very subtle lavender scent and I like it way more. I'll sometimes mix the stronger fragrance one with the lavender one if I want more a stronger scent on his clothes.
Stroller- We went with the Stokke. We loved the handling and design on it. It's beautiful and easy to use. Very luxe and smooth for little baby Cass. This is at a steeper price point so if you're looking for something more budget friendly a ton of my friends have the Uppababy stroller. That one is the most popular and common so I know it's also a good one to look into! We also own this Nuna one for when we travel or need something more compact.
Carseat- This is a no brainer. We have the Nuna Pipa Lite LX pottery barn version.
Baby Carrier- I had five different carriers in my baby registry and turns out, I hated them all. So uncomfortable, awkward, clunky, heavy, complicated AF, I just wasn't a fan of any of the ones I had. I even had a few very "aesthetic" looking ones sent but those ended up being even inconvenient to use. Luckily I was able to work with BabyBjorn and omg what a game-changer. I was first nervous about using a carrier after trying out so many different ones, but this one is different. IT'S SO EASY, LIGHTWEIGHT & COMFORTABLE. It's the best carrier out there. PERIOD. If you can't tell already I'm passionate about this one lol. It's perfect to wear around the house or out for walks. I highly recommend this! I have the mesh version which is light and breathable.
Diaper Bag– I searched for months and months on the perfect diaper bag. One that was functional and cool looking didn't want like frilly mommy bag vibes, ya know. Everyone said to get a backpack as it would be the most convenient and something your husband/partner could also wear. So I went with the Indie diaper backpack which was the one I originally wanted. It wasn't too pricy so I don't care if it gets dirty and it's functional for both of us to wear. I already own their travel duffle bags in most of the sizes and love them for travel so I knew this would also be a no brainer. I love that the Indie diaper backpack can clip onto my stroller and is easy to convert into a side bag if I wanted. All I can say is that I'm very happy with my diaper backpack. I get compliments on it every time I wear it out!
The Snoo- So many questions regarding the snoo and let me tell you it's a lifesaver. We LOVE IT and more importantly so does Cassian. He sleeps really well in it and I don't have to think twice about his safety when he's sleeping. We've been using it since he got home from the hospital so I'll continue to share updates as we go but as of now, we are finding it worth the investment and we're all for things that make life easier esp. with a newborn.
Elvie Pump– This isn't quite for baby it's more for you but I thought I'd add it in here as well because it's a must have for me. I feel like I would of gave up pumping by now if it wasn't for the Elvie. With a traditional pump, I felt constrained and restricted. I couldn't do too much because the big ol' bottles would get in the way. But with the Elvie I can pretty much do anything except sleep and shower. It has made pumping so much easier and way more convenient.
Lovevery play gym- Now I see why ALL moms have this play gym. He started to "play" in there since week two. Keeps him busy and active and it's also very helpful for tummy time and brain development.
Leacho Podster– I have the dock-a-tot, Snuggle me, and the Podster (I know, we're a little excessive) and while he loves the Snuggle me to lounge/nap, the Podster is what we use the most. We like that it's elevated so it's a great place to put him after he eats and burps. I feel like it helps with digestion and less spit up. He loves to look around and since the Podster keeps him upright, he's really loves being on it.
Wabi– I'll end it here with the thing we use the most. It's a drier/sterilizer and I swear it makes life so much easier. After we wash bottles, pacifiers, toys, breast pump pieces, etc. we stick it in the Wabi to let it sterilize and dry. It's quick, efficient, and effective. Exactly what all parents need to make their lives easier and safer for the baby. It's def an investment but worth every penny. We bought it on Amazon!
If you want my complete list of all the products I use for Cassian, I created a doc that you can access here: https://bit.ly/babyproductsguide