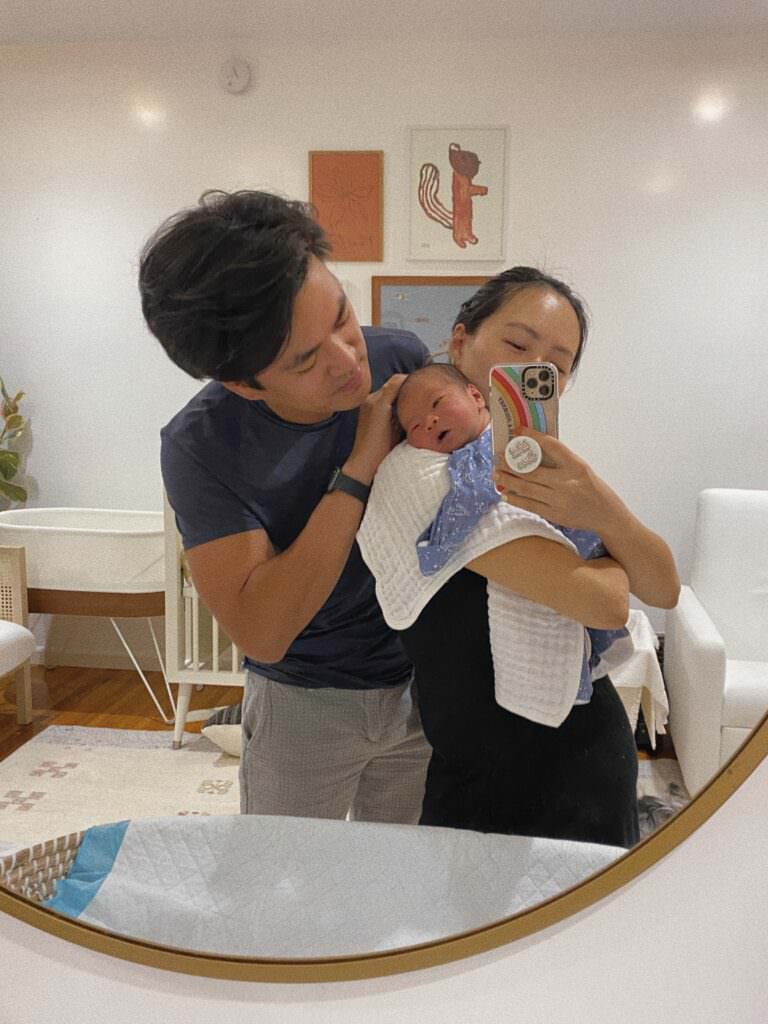 I'm not surprised to say that this was the most frequent question I received during my recent Q & A on Instagram. It seems like everyone wants to know what happens to your body (specifically down there lol) after birth and I totally get it. I was also curious even before pregnancy because it's something that's not really talked about. No one really tells you what their vagina looks like after birth because it's kind of personal and well, TMI. But helpful as possible by sharing my journey and the products that helped me through this process because girlfriend, it's a damn process.
Let's start…
Weight & Stomach
So I gained 17 pounds total during my pregnancy which was perfectly healthy according to both my Doctors and my nutritionist. When I came home from the hospital I had already dropped 10 pounds from giving birth. I still have weight to lose, but I'm in no rush and quite frankly I'm not that interested in losing it all. To be honest, I thought I would be stressed or sad about all the weight gain but it turns out that's the least of my concerns. I'm also pretty fascinated by my stomach. By no means do I have abs but I'm happy to report my uterus pretty much shrank back to it's normal size and all the fluids and bloating have disappeared as well.
Hormones
I was very hormonal during my pregnancy I even had to take daily medication to balance my thyroids. After birth, my hormones went on another level so that's been really messing with my weight, diet, acne, and overall health. Luckily my emotions have been pretty stable, no sudden cries or depressing thoughts BUT my acne has gone from 0 to 100.
Hormonal Acne 
I feel like this isn't talked about because it doesn't happen as often but I developed cystic acne all over my face. I'm working on a blog post to go further into it but it has left me a ton of scares and huge red bumps all over. It's painful and a little depressing to look at every single day. I'll look in the mirror and just not even recognize myself with everything going on on my face. I started seeing a dermatologist which is giving me a lot of hope. Although I can't really do any treatments until I'm done with breast feeding, I'm slowly starting to see results. Will keep you guys posted on this journey as well.
Tearing & Recovery
This is where it gets a little TMI but what's a postpartum blog post without it, right? So basically right after I gave birth, I had blood clots in my uterus. At the time it was happening, we were scared and thought this was rare but turns out it's quite common. My Dr just needed to remove all the clots out of my uterus and give me medication for the bleeding to calm down. My epidural was wearing off so I was starting to feel some pain when it was all happening which leads me to my recovery. I have friends who were able to literally walk around right after they gave birth, I was not. My stomach was sore from the blood clots that my Dr gave me stronger pain medication. I basically slept and was bedridden for the rest of the day. But in the middle of the night, I was able to get up and go pee with the nurses helping me which was a big win lol! And just to let ya'll know, the first pee wasn't painful like I imagined it to be. It was weird and uncomfortable, a little foreign, but I wouldn't describe it as painful! A sigh of relief, right?!
As far as tearing goes, I didn't tear much. My Dr didn't even tell me what degree since she said it wasn't much. Recovery after the first day was honestly not bad. Uncomfortable and strange, yes! but overall not too bad. The most important thing after birth they say is to walk and move around. And although it was rough the first day, I gently pushed myself to be as active as I could be which might have contributed to my fast recovery (and also working out during pregnancy was a huge help too!). With every day that passed, it got easier and easier!
But I have to admit, the biggest help to my recovery was probably having a postpartum nanny.
Our postpartum Nanny
Will do an entire blog post on this so stay tuned…
Pain
I have to admit I almost did an elective c-section because A. I terrified of birth (you can read my birth story here) and B. I was not looking forward to the pain after birth… down… there… (just to be clear I have nothing against elective c-sections, c-sections, or natural birth, I'm for it all.). After taking a million birth classes (I took a traditional birth class, epidural class, c-section class and elective c-section class lol) I learned that the vagina is one of the fastest healing parts of your whole body, similar to your mouth. And now that I've experienced it first hand, I can totally vouch that. Weird thing to say but my down there is looking & feeling back to normal as well! Your body heals so much faster than you think so if you're worried like I was, you'll be fine I promise. You just need to make sure you have the right tools for a fast and easy recovery which I'll go into below.
POSTPARTUM MUST HAVES
Fridamom kit: https://amzn.to/2BN8hUY
+ This was sold out for a while but it's back in stock. Must have for delivery and after birth care.
+ Buy an extra one of these Frida mom liners they were a lifesaver: https://amzn.to/3e9dOCz
Adult Diapers: https://amzn.to/3gGiNw9
+ Yup, you read that correctly lol. I used a few of these two weeks after giving birth. The first week I used what the hospital provided and then switched to these and lined it with the Friday mom liners which I linked above.
Pads: https://amzn.to/38D185F
+ Once your bleeding gets lighter, you'll want to switch over to regular pads since adult diapers will be too uncomfortable to wear. These are SOFT which is ideal for your down there. The other branded pads out there are kind of rough and don't feel good during postpartum so I'd recommend the Rael ones cus they're soft and super absorbent plus organic.
Tucks: https://amzn.to/2CjuTfx
+ My hospital provided this for me, in case yours doesn't you'll want these plus extra. I used these around the two week mark after the Frida mom liners. Once you're mostly healed you're not gonna want the whole fridamom liner and these smaller tuck pads are gonna be easier to use around two week post birth.
Bras:
+ Breastfeeding bra: https://amzn.to/33fECzg
This one is very similar to the bra I've been wearing for years except this one is for breastfeeding. It's so comfortable and easy to use when you're breastfeeding. Just trust me on this one, it has 10,000+ reviews for a reason!
+ Pumping Bra: I have two. Both are great! You can't go wrong.
– https://amzn.to/2DltUft
– https://amzn.to/30hInSG
+ My fave "regular" bra: https://bit.ly/2VWq8zG
Very soft and easy to wear. Your nipples are raw and they might be in pain from BF so this bra has been a lifesaver since it's soft, supportive but not too tight. Also easy to pull down when breastfeeding but not your typical breastfeeding bra. You'll want a breastfeeding bra and pumping bra separately. This one is more for when you're gonna go out or not wear a BF bra
Postpartum clothes: https://bit.ly/2UXJlAn
+ You'll LIVE in this piece. The pants and robe is my fave. Super easy to wear and comfortable. The robe esp. is the best during breastfeeding. Again since your nipples will be in pain, you'll want to keep them aired out and free. So I wore the robe w no bra or shirt all day long and that helped my nipples heal really fast. I like that it's a short robe so you're not all wrapped up. I have worn it every day for the last seven weeks now.
+ Also look into this cardigan- it's perfect for nursing & I also just LOVE it: https://bit.ly/2zNpNrg
Belly Band:
+ The one I wore the most. Very necessary after birth IMO. Helped with my belly postpartum. Unfortunately, it's the priciest belly band out there but it's worth it: https://amzn.to/38HIcT8
+ This one is cheaper and has tons of reviews. I personally had a hard time with this since there are three pieces to it. Ended up barely using it: https://amzn.to/2ZdYa4n 
+ These leggings are amazing and they have great compression so it sucks you in and helps a ton after birth:https://amzn.to/3iMdtsK
+ If you're shorter like me you might like the cropped legging version better: https://amzn.to/2Ds4EUY
+ I wear these the most since it's Summer. These are the same but biker short version: https://amzn.to/2BKMayB

If you're interested in all my baby must haves, I compiled a list of all the things I have and used since Cassian was born! It's basically my registry but more refined with things that I ended up actually using linked here: https://ellenorkim.com/my-newborn-baby-must-haves-2/