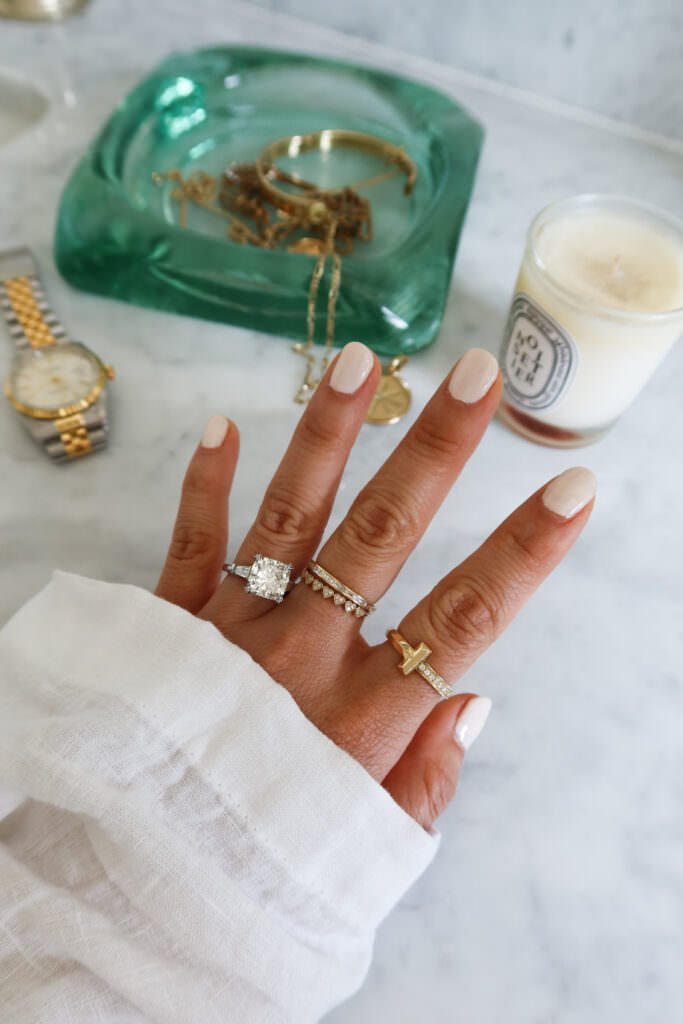 I wasn't really planning on going into so much detail re: my ring but seeing as it was a frequently asked question I figured a blog post was in order.
So basically during and after pregnancy, my fingers expanded. I couldn't fit my e-ring or any of my rings for that matter. John and I have been planning to upgrade my ring so we were already on the hunt for a new diamond and with my engagement ring not fitting anymore, it just made sense. My first engagement ring was from Tacori (which was my dream come true) and we had adjusted the size a few times before our wedding. Because of all the resizing in the past, we weren't able to change the size again after I gave birth so I figured I might as well just change the whole ring altogether.
It took about 13 months to find this diamond. I saw my jeweler probably a thousand times waiting and waiting for the right diamond to come. The diamond shape I have is a cushion cut and every single cushion-cut diamond is different. It's one of the hardest diamonds to source since everyone has their own requirements and specifications with it. It's complicated as hell, especially if you're picky AF like me.
Tips on upgrading your ring:
Find a jeweler and chat with them about your options. Most jewelers will take in your old diamond and put that credit towards your new diamond. FYI, you will only get the wholesale price for your diamond so just be prepared, it's about 60% less than what you paid
We decided to keep my old diamond since it's special and plan on turning it into a necklace with it. Something I want to pass down to my children.
If you're looking for a diamond that's more bang for your buck, highly suggest doing a Round cut. Cushion-cut will always look much smaller in size since they carry their diamond weight at the bottom. I tried on a few round- cut diamonds that were half the size of the cushion- cut diamond and the size of the round looked the same even though the cushion was 2x bigger in carat.
Take your time and wait for the perfect stone. It can literally take up to a year which is WILD but it's worth it.
Tacori holds a very special place in my heart and I'm the luckiest that I get to have my new ring with another Tacori setting. I was able to work with the Tacori team virtually via Tacori Connect to design my very own custom band, which was such an easy and wonderful experience. For customized rings, you first select your favorite setting as a starting point from their large selection of engagement rings and work from there.
One of my favorite things about Tacori engagement rings is the intricate details from the side view. Tacori's crescent silhouette is their iconic, signature design element that makes them truly unique. I went with a 3-stone engagement ring that features baguette diamonds on the side for a classic and timeless look. My ring is based on this one here. And if you're interested in upgrading your ring, Tacori has an upgrade policy and can provide up to 65% credit towards your next Tacori ring setting..
Let me know if you guys have any questions & as always see ya on the 'gram!