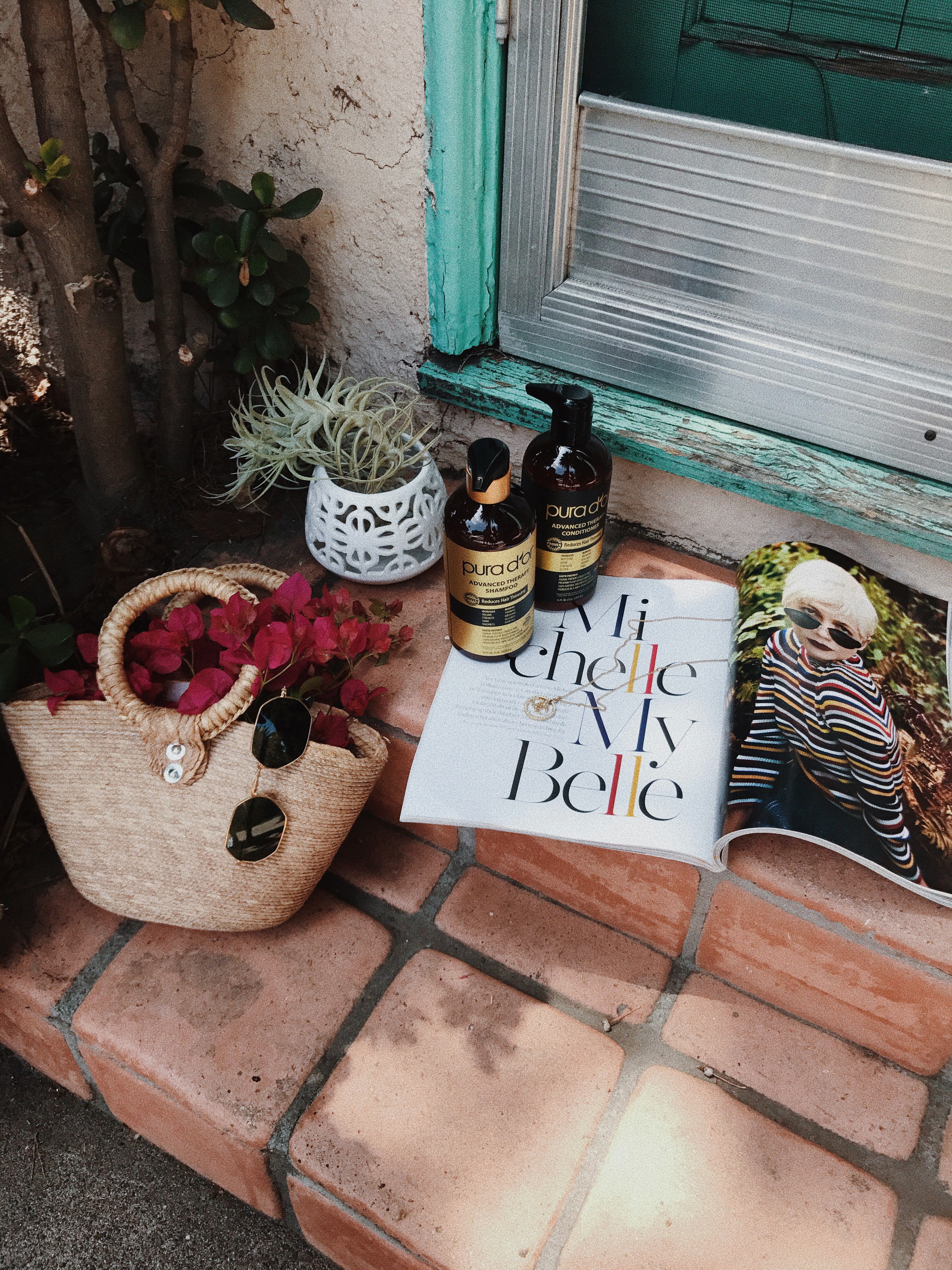 BECAUSE MY HAIR IS VIPI don't know about you, but I love my hair. Does that sound vain? I don't even care. It's something I take pride and joy in. But I will say, my hair has been through a lot. I've been dying my hair since I was in Jr. High and let me tell you, that's a ton of bleach. So, it's clearly obvious my hair has been through some hard core pain and as I've hit the 30 mark this year, my hair just isn't the same. Honestly, it's lost a lot of shine, fullness, thickness, and well sometimes I swear I'm losing thousands of strands by the minute. I felt like it was time to invest in some worthy hair care products to rejuvenate my hair and prevent any more breakage and thinning.
I've been testing out Pura D'or Advanced Therapy Shampoo and Conditioner since my initial "Need to get my shit (hair) TOGETHER" crisis and I really wanted to share this product with you guys. I first read on their site it was clinically proven to reduce hair thinning, increase volume, strengthen and add shine… um HELLO, that was exactly what I needed.
Let's start off by noting the 15 natural ingredients, organic extracts, and essential nutrients in these bottles which nourish hair follicles to boost strength and resist breakage. Also packed with Biotin (which I take daily), Nettle, Pumpkin seed, Black Cumin Seed oil which all increase volume and thicken hair.
So here's my break down:
+ Super nourishing and mositurizing. My hair feels very healthy, a tab bit thicker, and fuller, no doubt about it!
+ For me I don't see any added body and volume since my hair is quite fine, but that's ok! I'd rather have nourishing than body since I curl my hair anyways.
+Scalp feels cleaner and a can last an extra day without washing my hair (which is a huge plus in my eyes).
+ I'll need at least 6+ more months to really test out the hair loss prevention benefit but I have high hopes as of now.
Bottom line, I'm enjoying this product. I do have a few other great shampoos in my shower, but I keep reaching for this bottle over and over. And I can confidently say I see a difference in my hair's health and condition. With the help of a trim, my hair is in its strongest state ever. Just know that no product will magically make your hair perfectly healthy, but with some beneficial hair products, it will aid in your hair care journey. If you're interested I've asked for coupon code for my reader: "spreadfashion" $30 offf your first order ($19.99 total).
I'll continuously give you guys updates on my hair care journey if you're interested!  And as always comment/DM me if you guys ever have any questions. Talk to you in the next one, xo!