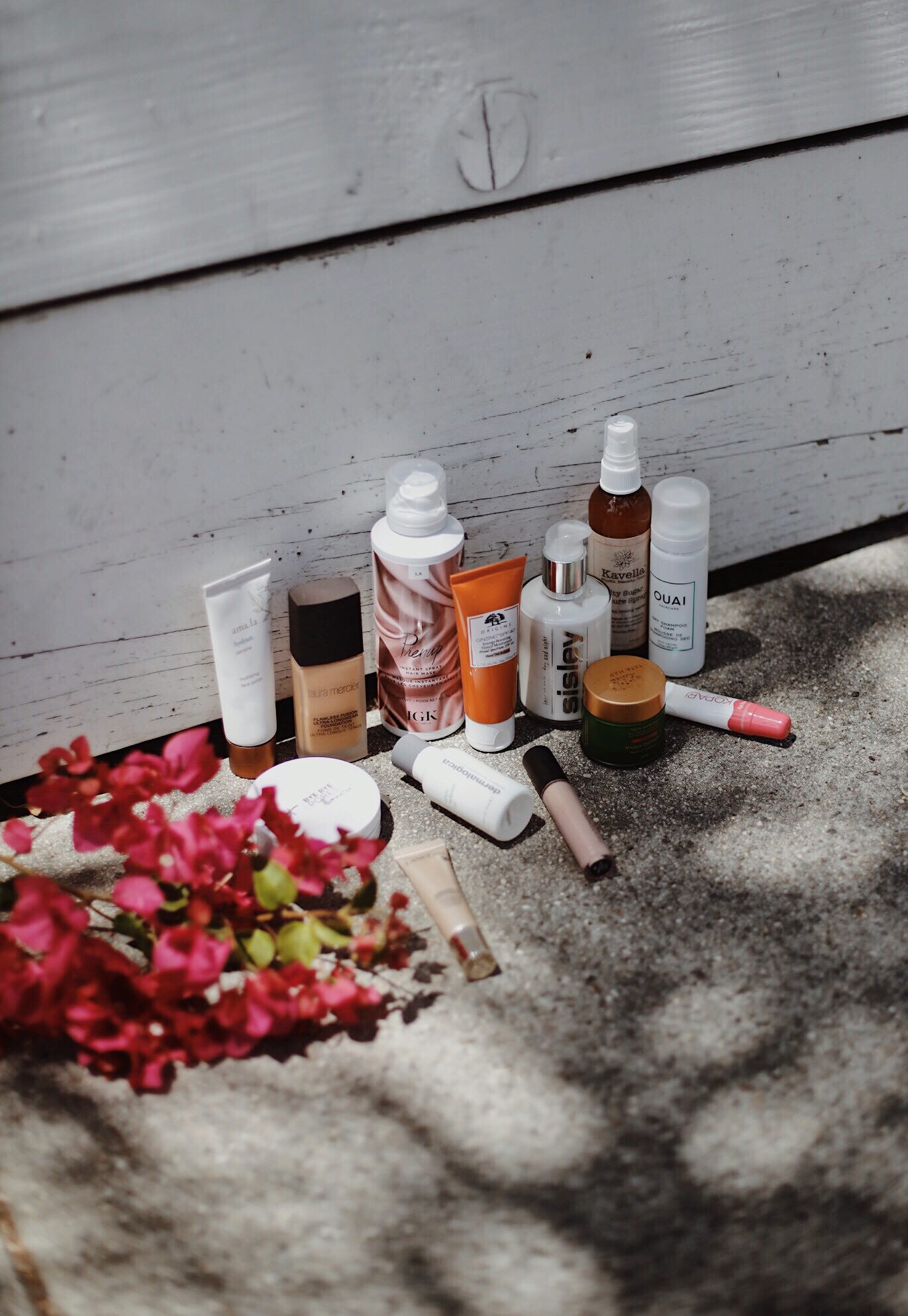 Keeping this short and sweet (just like me) because no one got time to read everything that I'm feeling about these products, plus our attention span is like.. 10 seconds.
Ama La: Although I'm truly loving my glorious tan this season, I must admit my face has been extremely dull and looking dehydrated. I found this Face Polish that hydrates while removing dead skin cells which leaves my skin a little bit more glowy than it started. Now it's not a magic face wash, it's just something that's been helping my dull skin. Price: $48.00
Laura Mercier Flawless Fusion: To start off this foundation is a full coverage, matte, 15 hr wear, weightless formula kind of foundation. I already know what you're thinking… a gal like me, who loves Glossier's skin tint liking this full coverage matte product?! Well, let me tell you, with a beauty blender this foundation is BEAUTIFUL esp. for the days I'm shooting or running around in the sun because it stays put. I use about a half a pump, nothing more. Price: $48
It Cosmetics Bye Bye Pores Illumination: It's supposed to blur pores but I use it as a highliter on the top of my cheek bones. Price: $28
Lancome Absolue Precious cells Lip Balm: I've been living for this lip balm. I swear this scent (Honey in Rose) is absolutely divine. It's SUPER nourishing, and I mean for $50 it better be, right?! Since it's on the pricier side, I only wear this at night before bed.
DERMALOGICA Phyto Replenish Oil: This face oil is life. It's super light weight and has an antioxidant shield against free radical damage. It's literally perfect to seal my moisturizer and protect my skin. *Hands up Emoji*. Price: $75
IGK prenup: If you have shitty, weak, damaged hair from too much bleach (aka ME) you NEED this. It's the one product that blows my mind every time. I don't get it but I love it. You basically spray this in your hair after you shampoo and leave it in for 2-3 mins max. Wash it out, and VOILA, your hair is soft as butter. Again, I don't get it but I love it. No more hair breakage here. Price: $32
OriginsGinZing™ SPF 40 Energy-Boosting Tinted Moisturizer: This SPF is GOLD. It has a slight tint which is perfect for the days I'm just home or running errands. I probably reach for this SPF 4x a week which says A LOT. Only down fall is it makes my skin a litttttle bit oily at the end of the day. So I wouldn't recommend this to anyone with v oily skin IMO. Price: $38
Sisley Emulsion Ecological Compound: This is for SURE an investment. This compound isn't for everyone. I mean honestly, there isn't any crazy result that I've encountered these last few weeks but I will say I love how my skin looks and feels when wearing this moisturizer, and it absorbs super fast which is always a plus for me! Price: $150/$250
Tata Harper Purifying Mask: It's really the only mask I've been gravitating towards. Deep cleaning is a must for your face and mind. After using this mask, I will say that I can see a difference and that my face really glows the morning after. Price: $65
Bare Minerals Gen Nude Buttercream Lip Gloss: I love the color, consistency, and feel. Lip gloss > Matte Lip sticks !! Price: $18
Kopari Coconut Lip Love: It's been living in my bag this entire Summer. I don't think I can live without it. Thank God it's cheap! Price: $12
Kavella Salty Sugar Texture Spray: You know this wouldn't be a round of favorites without a texturizing spray. I think it's what makes my signature hair, signature. This one is great since it's made with natural ingredients! Price: $16
Ouai Dry Shampoo Foam: This photo was taken w the mini version, but I can report that I've purchased the full bottle of this baby because it's AMAZING. I think it's better than the spray because it soaks up more oil IMO (there' are tons of mixed reviews on this one). If you're looking to switch up your dry shampoo game, this one is promising. But seriously who washes their hair every day? Crazy people, I tell you… JK! $28
Hope this was informative and helpful! Let me know any products you're loving this Summer season (I know I used the word love a lot this post)! xo