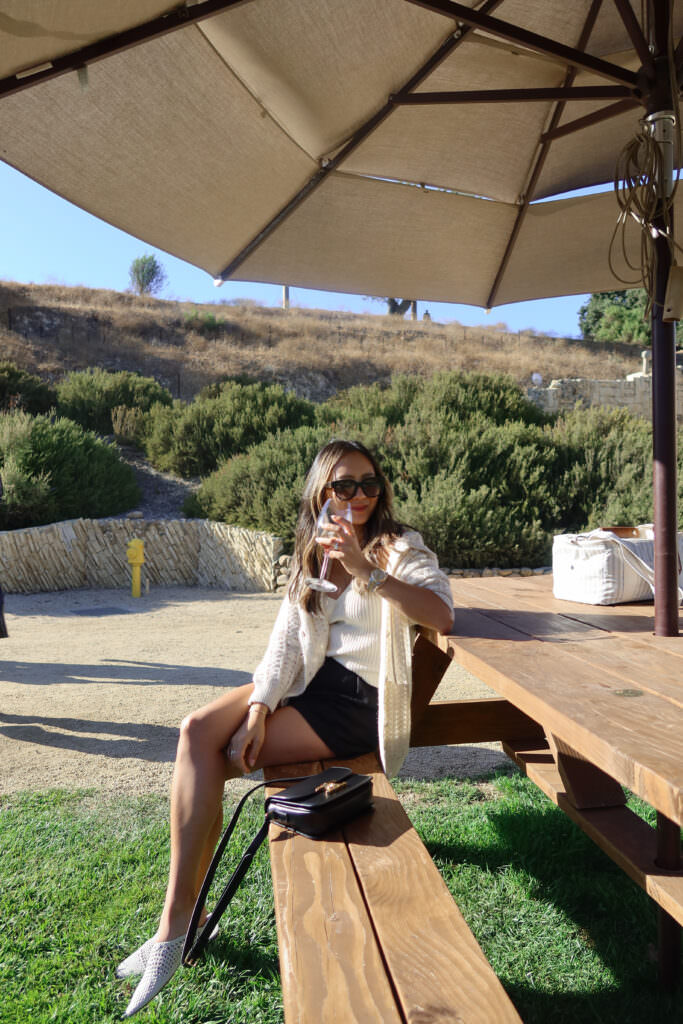 I've been longing to visit Santa Barbara for a weekend trip for years but John wasn't a big fan of the city. We've only been once for a day trip and it rained the entire day and after that John was less than impressed.
Since we were due for a little "parental getaway," I convinced (more like forced) john to take us to SB. Which I'm so glad I did. After spending just a day in the city exploring new restaurants and lounging by the beach, John was hooked. So obsessed he started looking at for-sale homes convincing me that we need to move here (haha we aren't, at least not anytime soon).
where we stayed
hotel – Kimpton Canary
we racked up quite a lot of cc points so we ended up picking a hotel that was comped through our cc points. I was debating between Pali House (which is GORGEOUS btw) or Kimpton Canary which is where we ended up staying and felt it was the right decision.
It's super close to the beach and the main road where all the shops and restaurants are. It had a beautiful rooftop pool and overall gave me subtle Italy vibes.
What we ate
+ Bettina – cute little pizza joint with tons of boutique shops around. 9/10
+ Test Pilot – Little tiki bar with yummy drinks
+ Los Agaves – Mexican food without the frills. They have a fresh salsa bar which was amazing!! 8/10
+ Sama Sama – Asian fusion. This was DELICIOUS! Get the Broccolini & Tofu and Coconut Mussels! 10/10
+ Helena Bakery – located in a fun little area, fancy, lots of things sell out so go early. Baked goods were yum and so was the breakfast sandwich, but don't get the cinnamon roll, it was dense and hard. 7/10
+ Loquita – Need resi way in advance so keep that in mind. It was SO GOOD and worth it. We didn't have resi but 30 mins before they were closing, they had open spots at the bar so we had their full menu and ate at the bar! 9/10
+ The Lark – Same owners as Loquita and Helena. You need resi in advance. It was a beautiful restaurant and loved the atmosphere. Food was comparable to restaurants in LA. 8/10
+ Santa Barbara Seafood at the pier – I love eating at the pier. We got the fried seafood platter, clam chowder, seafood pasta. Seafood was fresh and good but it's a one-time visit kind of place. 7/10
+ Metropulos Fine Foods & Deli – We came here to pick up sandwiches, snacks, and charcuterie platter before our wine tasting. I loved everything here. It was the perfect place to pick up for before a winery! 9/10
What we did
We didn't do much since I really wanted to be lazy and lay outside by the pool so we did the bare minimum. Just walking around the city was so fun to explore if you're not into wineries. Walking by the beach, renting bikes,
+ Sunstone Winery – It's the only winery we had time to visit. There are SO many wineries in the area but I chose to visit Sunstone since it looks like a European palace. Unfortunately, you can see the actual winery cus of covid but we still enjoyed the outdoor tasting area. Keep in mind this is 40 minutes away from SB.
+ The Blue Door – vintage home shops. Always lurking through vintage shops where ever I travel.
+ Dueling Piano Bar – We stumbled in here while waiting for dinner, and it was really fun. They play a ton of old-school songs and the drinks are strong! Good time if you want to grab a drink.
+ Farmer Market – On Saturdays there is a big farmer's market. We love visiting markets so we stopped by. I got some bread, John got some nuts!
Hope this helps!
xx