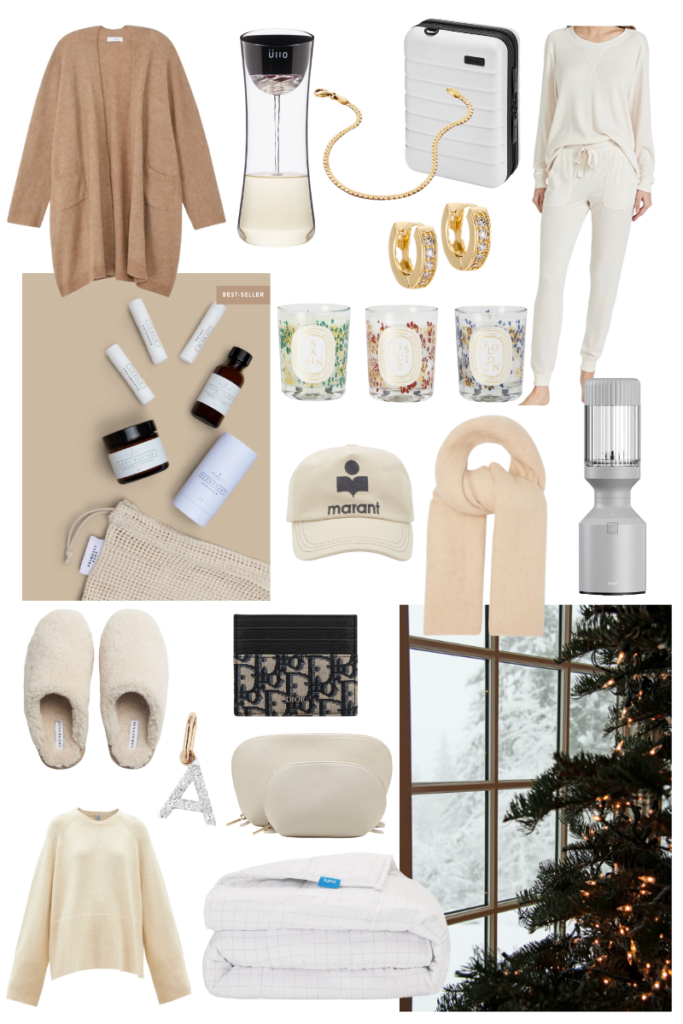 1. Storq Cardigan – the cardigan I wear the most. It's finally back in stock after a year. It's originally made for nursing moms but also great if you're not. It's the best fitting, slouchy, oversized cardigan I've ever found. Gift it to yourself, honestly.
2. Ullo wine filter – I call it the no hangover wine filter. It filters the sulfites and sediments leaving it as pure as possible within minutes. I swear by this!
3. Stone & Strand Jewelry – I would say 80% of my fine jewelry and diamonds are from Stone & Strand. Some many cute dainty pieces as different price points. Def. worth looking into for your sister or bestie. I love wearing this bracelet, ring, earring, necklace combo!
4. Away Travel Case – I travel with this case all the time. I like to keep all my vitamins and supplements in this or even use it as my make up bag.
5. Lounge/PJ set – Love chic lounge clothes. this one is great 'cus it comes as a set and you can wear the pieces separately. It's like two gifts in one.
6. Primally Pure Starter Kit – This is one of my favorite things I have found this entire year! Primally Pure is a local CA-based, female-founded natural, non-toxic personal care + beauty brand that uses only the highest quality clean ingredients derived from nature. I bought this starter kit a few months back, and I'm hooked. This kit is the perfect gift, customizable & everything you need:
Luxurious body butter which contains ingredients that are safe enough to eat! It makes your skin next level soft and hydrated. My fave is the citrus mint.
The Everything Spray which you can use on your face, your body, any time you need a refresh. I love it after my runs or pilates.
Natural Deodorant that actually works & that everyone could use!
Three Lip balms that use all-natural ingredients like tallow from grass-fed cows, coconut oil, and shea butter to deeply moisturize and heal chapped lips.
Use discount code: ELLEN15 P.S  their black friday sale is going on!
7. Diptique Candle Set – How gorgeous is this candle set? If I got this for Christmas, I'd be happy AF!
8. Isabel Marant Hat – I have a few of these hats and they're perfect for when you just can't be bothered. Hats are universal so you won't have to worry whether it fits or not when gifting!
9. Toteme Alpaca blend scarf – This is a little pricy, but if I'm gonna gift a scarf to my mom or MIL, it has to be the best. Love Toteme, they make some of the best quality knits. This would be a forever piece in anyone's closet.
10. Beast Blender – Yes, this made my cut. Obsessed w mine. It's compact but powerful at a great price point.
11. Sherpa House Slippers – Listen, house slippers are just the best. Everyone can use house slippers, might as well get cute, comfy soft ones!
12. Initial Diamond Letter Charm – This diamond charm can be added to any necklace or even a bracelet. I have one that I wear every day as a necklace. It's my most complimented jewelry piece!
13. Dior Card Holder – If you're feeling *spendy* for that special someone, this wallet is it. It's currently on my wishlist *cough couch john*
14. Cuyana Leather pouches – These pouches are my most used. It's functional and practical but super cute! Honestly, practical gifts are the best because people can actually use them over and over.
15. Toteme Sweater – This sweater is beyond beautiful. It's incredibly soft and the fit is flattering. It's an investment piece but one that will last forever.
16. Luna Weight Blanket –  I feel like this is the most versatile gift on this guide 'cus you can literally gift this to anyone and they will be happy, I promise you! These weighted blankets help you fall asleep and are so underrated.They are incredibly relaxing and calming. Basically helps release serotonin (happy hormone), increases melatonin (sleep hormone), and reduces cortisol (stress hormone). And the duvet style makes it easy to use alone or layered on the bed. They're machine washable too, so mess-friendly if you want to snuggle with your little ones! I mean, honestly I think we can all use a weight blanket in our daily lives! use code 10ELLEN for 10% OFF