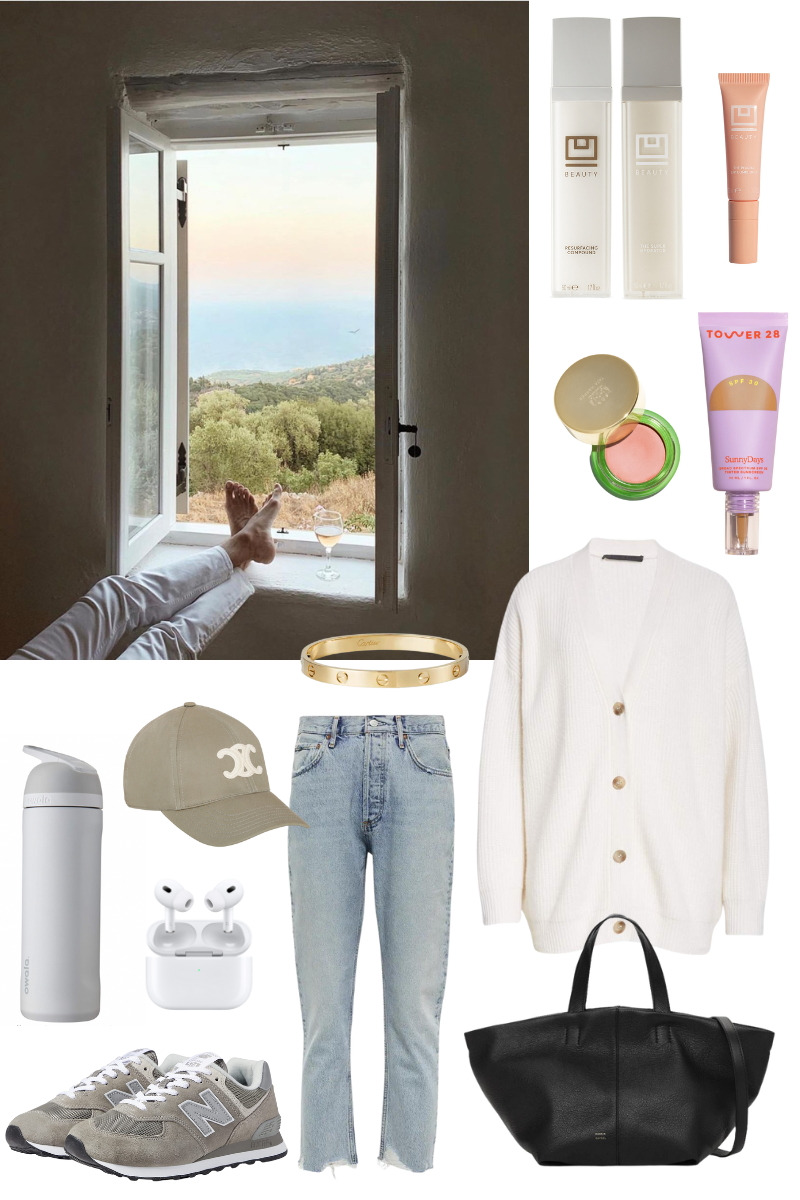 10 Things I Used the Most in 2022:
1. Mansur Gavriel  Tulipano leather bag | The most worn bag of 2022!  My everyday bag that's not too big, not too small and it holds so much. The shape gives off Celine meets The Row but at a much friendlier price point. It does soften as you wear giving it a more beautiful relaxed shape. I believe it's discontinued now, so there only a few pieces to be found.
2. Jenni Kayne Cardigan | While this was one of my most worn sweaters this year, I will say it does pill and it's hard to wash which isn't ideal if you're around a toddler. BUT it's beautiful and so incredibly versatile. I do think everyone can benefit from investing in one. I found a few similar and at friendlier price points here, here, and here.
3. AGOLDE Jeans | I've been wearing my AGOLDE Toni's for a few years but now the fit is a little dated. Since they discounted the Toni's I've moved on to the Riley specifically in the shade bitter which I'm in love with! It's similar to the Toni's where there's some stretch and it's a slim fit.
4. New Balance 574 Sneakers | These New Balance were my most worn shoe this year. Comfortable but still gives me a sense of style. I also loved my Hoka's esp for my walks in the mornings and my GG Ball Star sneakers. Those 3 were probably my most worn.
5. Hats | I'm in my hat era. Can't be bothered to do my hair when you got a toddler running around. I'm all about being lazy but looking somewhat chic so my hats were on heavy rotation. I love this one from Celine and I own ton of Isabel Marant hats.
6. Audibles & Airpods | Listening to Audiobooks changed my life in 2022. I walked an average for 4 miles everyday just listening to my books. What an amazing HABIT!!! Even just listening to a book while I'm cleaning the house or driving in traffic has made chores so much more enjoyable. If you haven't read "It ends with us" start there. That's how I got sucked in.
7. Owala Water Bottle | It's the only water bottle that I've stuck with. I've tried every single brand out there but something about the straw makes me drink more water. This water bottle was my most used and my personaly favorite product of 2022. Will be using it for my life!
8. Ubeauty Skincare | I have confessed my love for Ubeauty this entire year. It's hands down the best skincare product I've come across for anti-aging. Bold statement, yes but I stand behind it. Get The Duo and the Lip Compound. My 20% off code "ellenor" should still work!
9. Tower 28 Tinted Foundation | The only "foundation" I wore in 2022. Literally. Light coverage but evens out my skin tone, leaves me with a beautiful glow that's not sticky or dewy. Most importantly the shades match me perfectly. I like 30 & 35 depending on how tan I am. Asian female founded brand with insanely clean ingredients formulated for sensitive acne prone skin… I LOVE THIS STUFF!
10. Tata Harper Blush | Ok, I love everything Tata Harper. I love her serums & moisturizers with my whole heart, but this blush in the shade "spicy" is something else. Not only does it stay on my face all day, it gives a beautiful flush of color and make your skin look so healthy. There's no blush formulations that comes close. Another, clean beauty brand that just gets it!