I wouldn't mind a pound of chocolate either…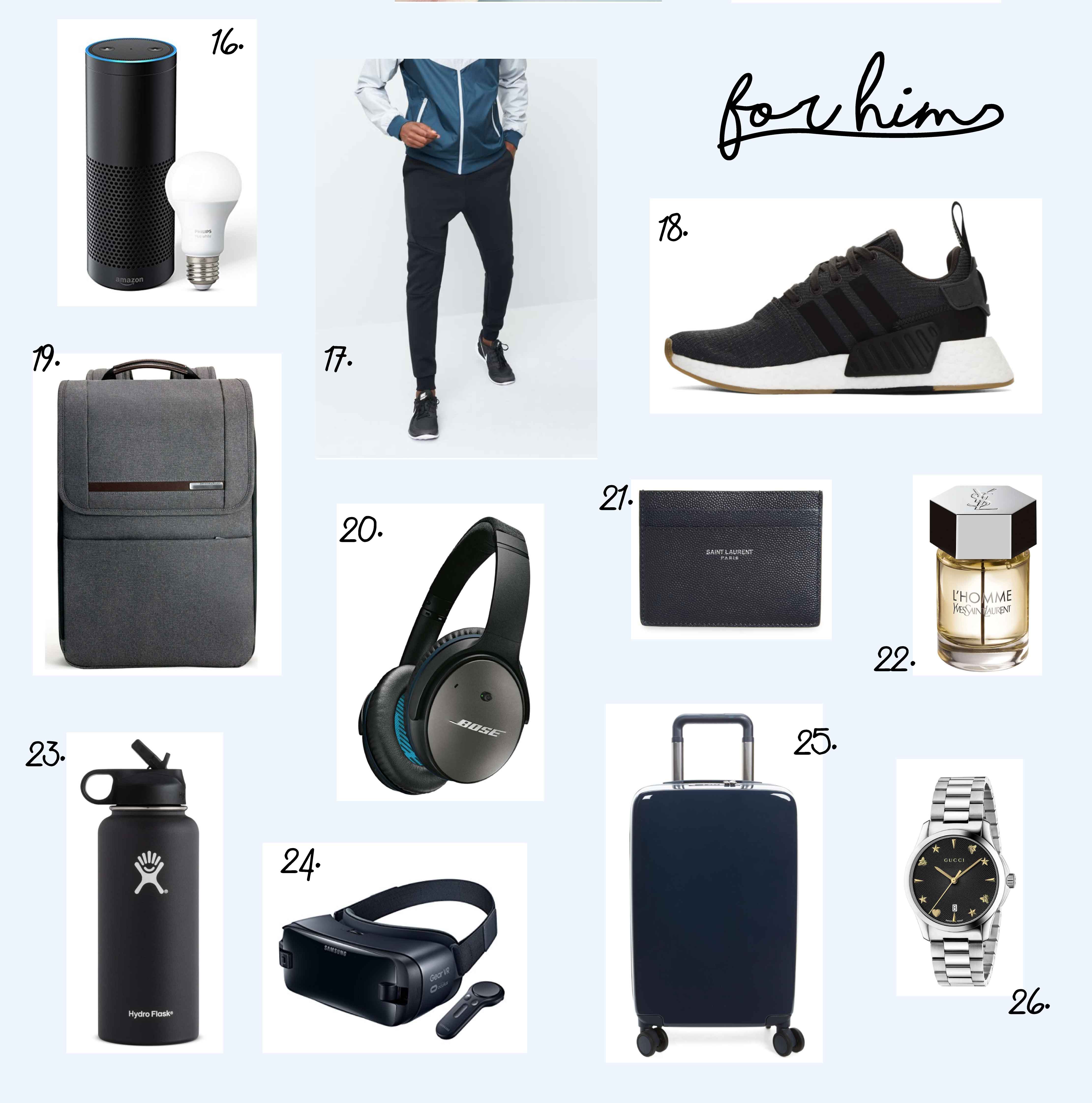 Now I'm not gonna lie, I was legit hesitant to share the "For Him" guide because I have spent countless hours finding the BEST gifts for my husband over the years. I'm a GIFTER meaning my gift has to be perfect. So you can trust that these are items here are thought out and worth every penny (many are the things my hubs already loves).
16. Echo Plus with Built-in Hub–  Alexa has changed the game for my hubs. Instead of asking me (useless) questions, now he can chat with Alexa all day and leave my ass alone.
17. Nike Tech Fleece Joggers– Hallelujah, joggers that don't make my hubs looks completely homeless!
18. Adidas Originals NMD RS– I legit had to ask KIDS which sneakers are cool these days and they all said this pair right here. Now, my hubs and I are in our 30's so you may think why such hip shoes? Because we are still HIP at heart, OKAY!?
19. Kinzie Street Expandable Backpack– THIS RIGHT HERE IS MY PRIDE AND JOY. I bought this for my hubs two years ago… TWO YEARS AGO, and he still wears/uses it EVERYDAY. It's the perfect sleek, yet professional, but cool and FUNCTIONABLE backpack for guys in the tech, marketing, startup, actually anything, field. Just trust me, and look for yourself.
20. Bose Noise Cancelling Headphones
21. Saint Laurent Card Case- Perfect for those couples who are in their 1-2 years of dating or when things are getting more serious.
22. YSL L'Homme Eau De Toilette– My absolute favorite men's scent in the world. It's like sex in a bottle… sorry so vulgar but it's true!
23. Hydroflask– This is a good side gift. But I mean honestly, who doesn't have a Hydroflash yet? You're living under a rock, my friend.
24. Samsung VR Gear
25. Raden A22 Charging Carry-on Suitcase– I'm always decked out in really cute traveling gear, and John's always stuck with the old-been-in-storage suitcase, so it's time I fancied him up.
26. Gucci G-Timeless Bracelet Watch– As a blogger, I spend a lot of money on myself. It's part of my job to share with you guys new arrivals, the best of things, etc.. So, when it's a special occasion like V-day or anniversaries, I try to shower my hubs with the best too! I usually ask him not to get me anything ('cus I honestly don't want anything) and would rather get him something super nice to show my love and appreciation for everything he has done for me and for being my everything. So, last but not least, this watch is not a Rolex, but it's also isn't a Daniel Wellington watch either. It's classic, yet luxe enough!
Hope that helped you guys! Let me know what you guys end up getting for your signifacant others!