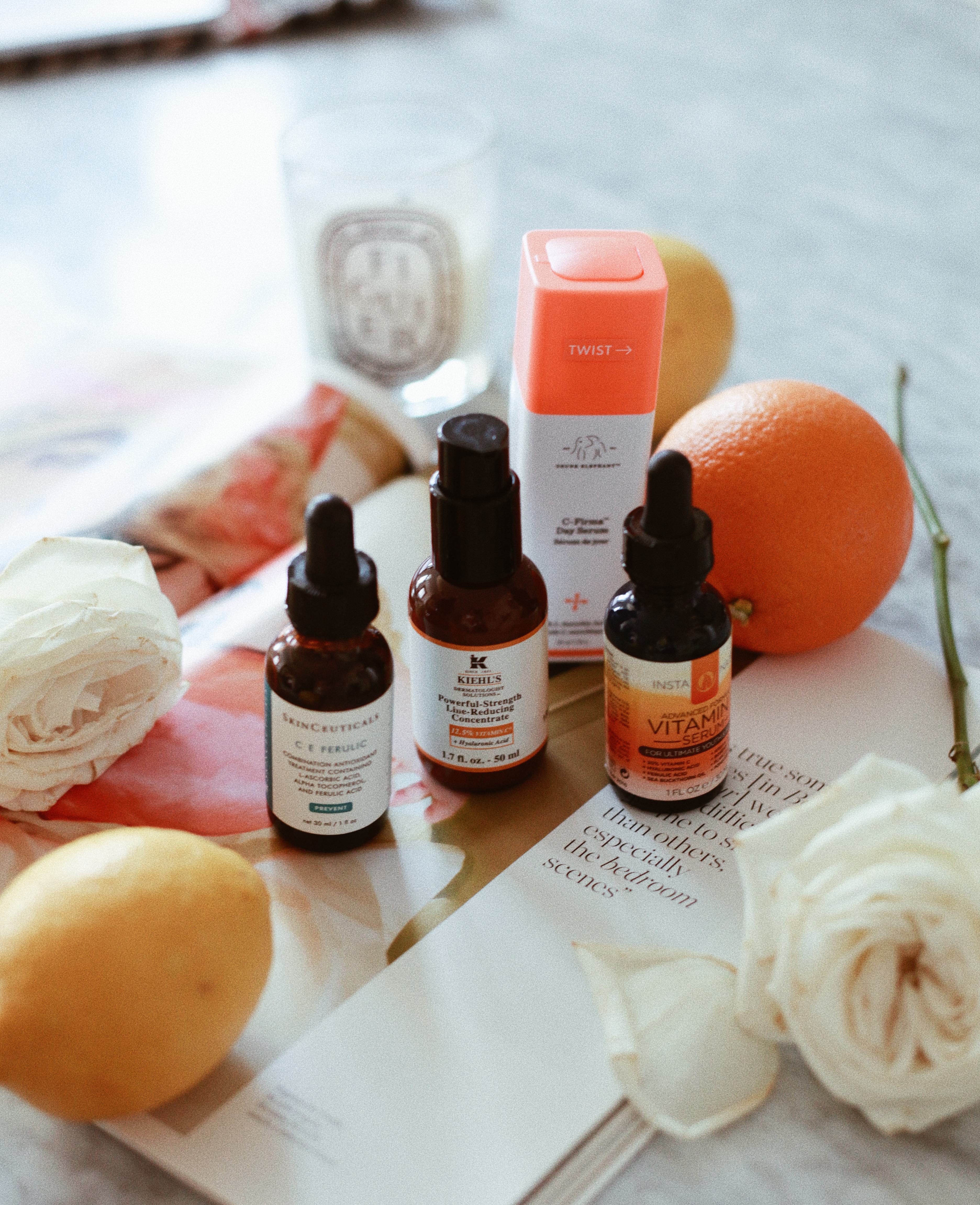 I love talking about Vitamin C. It's the most important skincare product you'll ever use and the most beneficial to you (esp. with anti-aging).
Why?!
Because our bodies cannot synthesize it. It must be obtained through diet, and because Vitamin C has a very short period of activity, it must be replenished daily, both nutritionally and topically.
Key Benefits:
Stops Free Radicals (Antioxidant)
Boosts Collagen Production
Brightens Dark Spots
Skin Repair
Helps Protect Against Sun Damage
Reduces Pigmentation
There are tons of vitamin C serums that are beneficial for your skin, but L-ascorbic is the crème de la crème. L-Ascorbic is vitamin C in its most potent form, and it has the most research backing it to show effectiveness. Many serums on the market today can do absolutely nothing for skin for a variety of reasons — instability of formulation,  ineffective forms of vitamin C and wrong PH levels (this means your Vitamin C serum is doing NADA for you).
Vitamin C comes in a variety of forms and derivatives:
Ascorbic Acid (L-Ascorbic Acid which is pure vitamin C aka the crème de la crème)
Ascorbyl Palmitate
Sodium Ascorbate
Sodium Ascorbyl Phosphate
Magnesium Ascorbyl Phosphate (MAP)
Tetrahexyldecyl Ascorbate (THDA) (also denoted Ascorbyl Tetraisopalmitate)
Ascorbyl Glucoside
Ascorbyl Glucosamine
Ascorbyl Methylsilanol Pectinate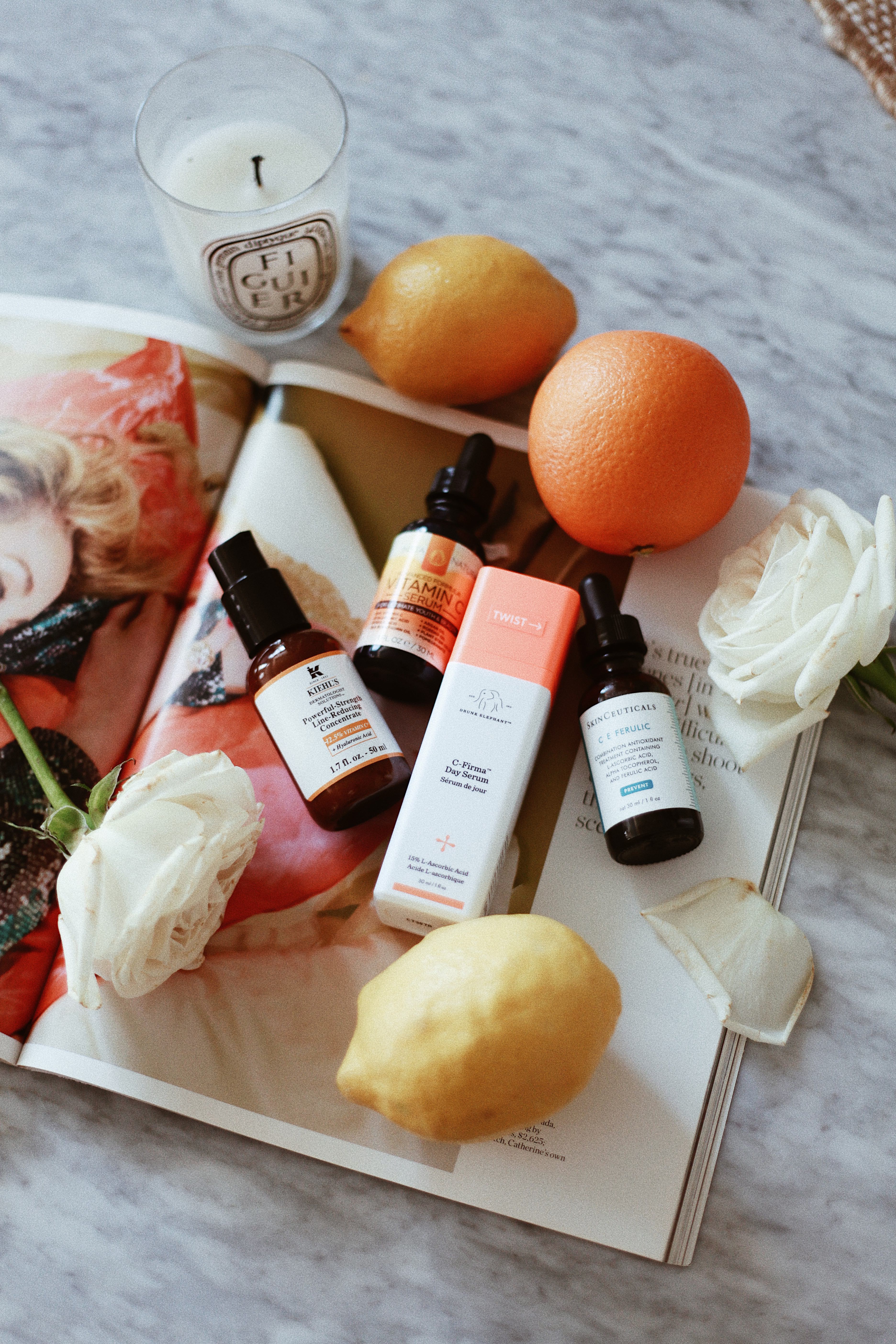 It's important to know that Ascorbic acid is a very unstable solution and it can break down quickly! When exposed to air, vitamin C solution undergoes oxidation and becomes not only ineffective but also potentially harmful (YIKES!). The most common method where vitamin C is stabilized and potentiated is the addition of vitamin E and ferulic acid. PLUS- Ferulic acid doubles the protective power of the vitamin C and vitamin E.
PH LEVEL
Another important factor is to know your Vitamin C serum's pH level. Vitamin C is most effective at a pH level between 3-3.5. Now if you have more sensitive skin, pH level of 2- 2.5 will work wonderfully on you.
You also want to note the concentration of L-Ascorbic Acid in vitamin C serum should vary anywhere from 10% to 15-20%
Make sure that you're looking into all these factors so that you're not poetically damaging your skin or buying a Vitamin C serum that is doing absolutely nothing for your skin.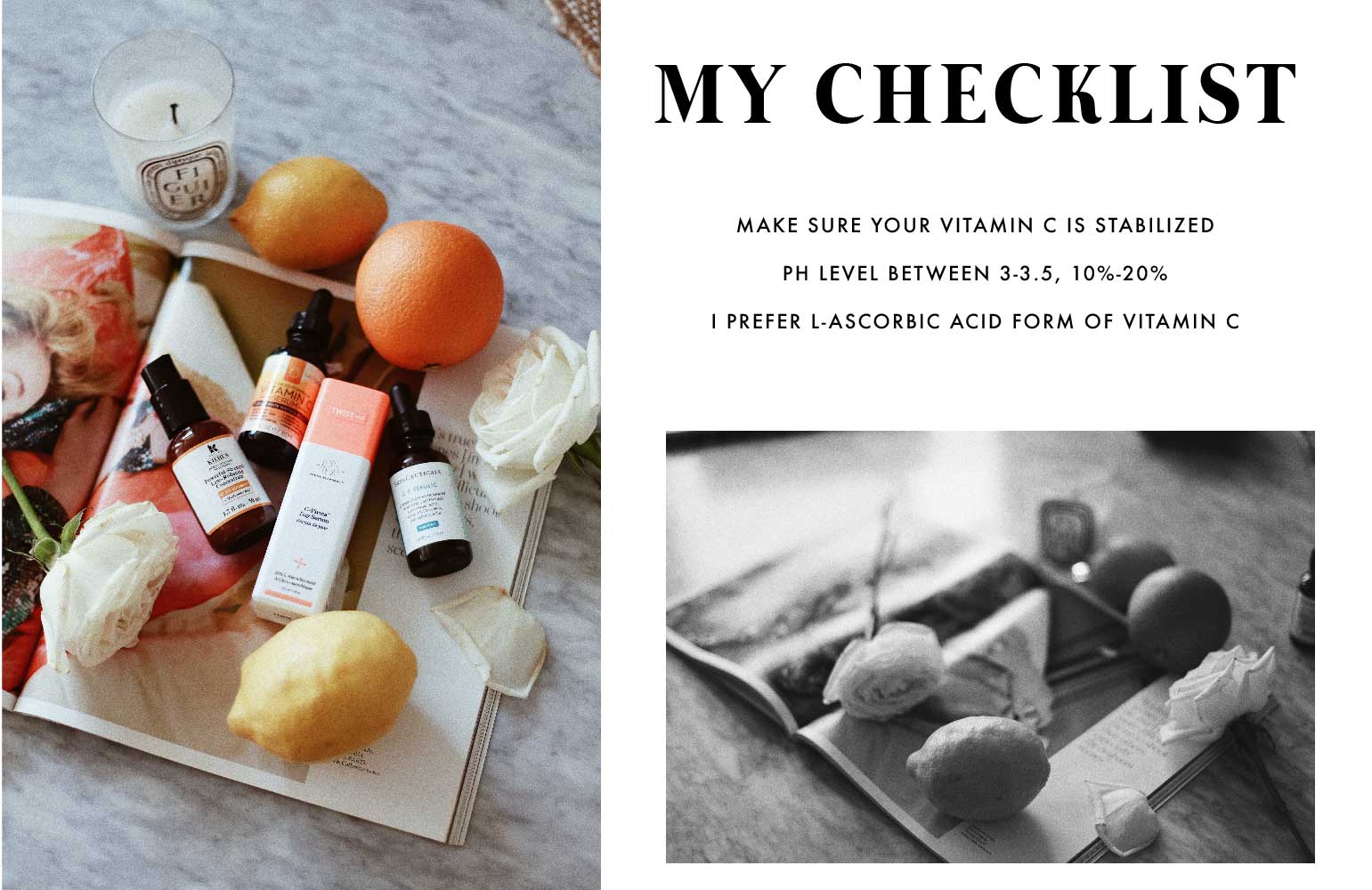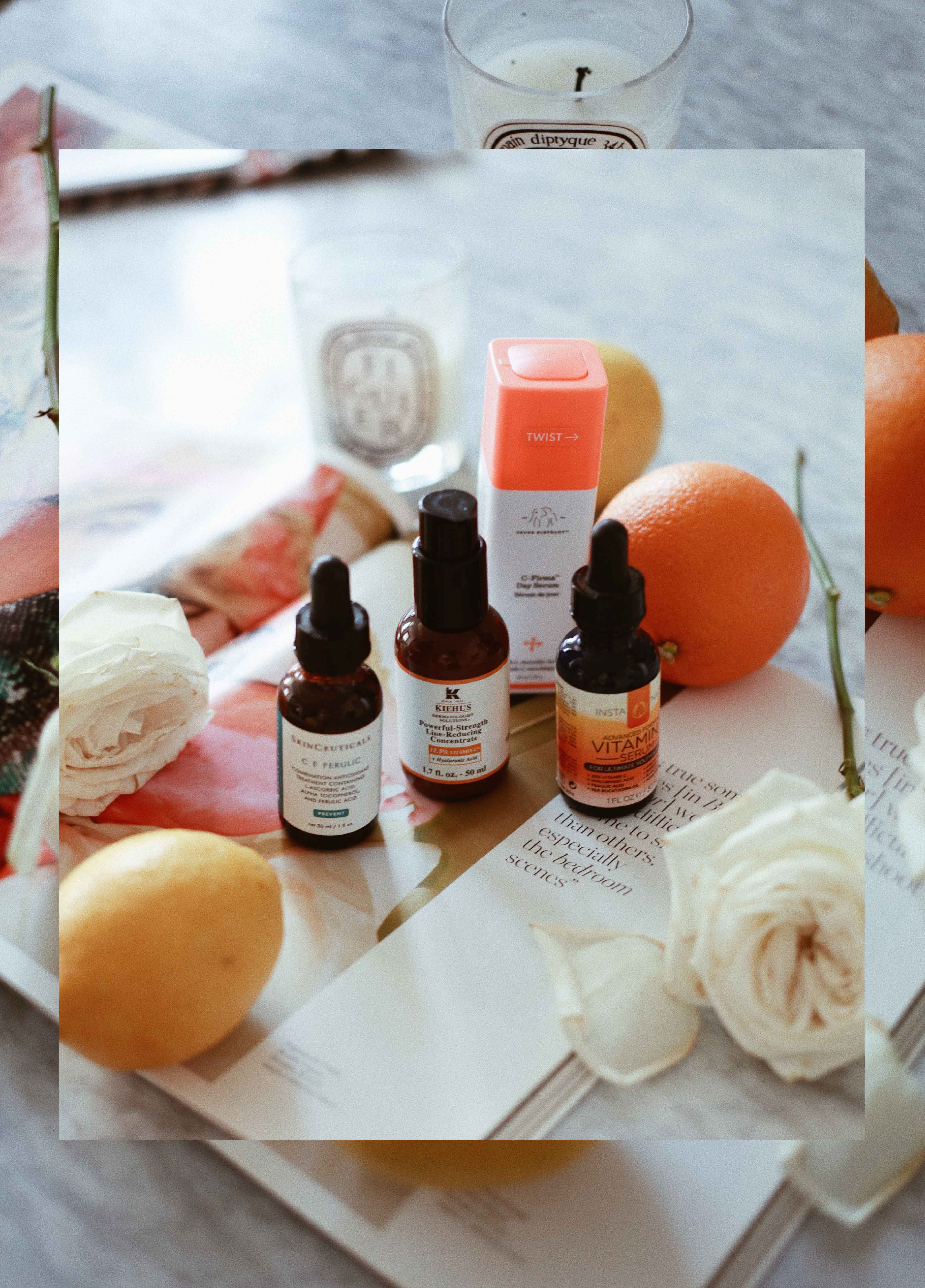 15% pure vitamin C (L-Ascorbic Acid)
1 % Vitamin E
.5% Furelic acid
pH levels of 2.5-3.0
A combination of 0.5% ferulic acid (a potent antioxidant of plant origin) with 15% Vit. C and 1% Vit. E can increase the efficacy of Vit. C eight-fold.
Not sure if that needs reexplaining, but just in case: combining vitamin C (ascorbic acid) with ferulic acid and tocopherol, makes vitamin C eight times more effective!
Skinceuticals holds the patent on stabilized ascorbic acid compositions, the ideal formulation with maximum bioavailability with the least likelihood of irritation at a low pH. Bioavailability is the degree and rate a substance is absorbed into the skin and able to have an active effect
All SkinCeuticals serums are formulated so that once it's absorbed you can't wash it off or rub it off. It will continue to work for the next 72 hrs.
My absolute favorite vitamin c. I can promise you that you'll see results in your skin from this product!
15% Ascorbic acid
1% vitamin e
Ferulic acid (no specific %)
3.3-3.5 ph range most stable in liquid formulation
Vitamin c + e = best combinate for skin strength against the sun. This one also has peptides, fruit enzymes, green tea extract, licorice root, cranberry enzymes, marula oil,
This packaging doesn't allow exposure of the sun sealed tight from the air.
"Using Vitamin C twice daily would be a waste due to the fact that the skin can only absorb 20% Vitamin C per day…also due to the reservoir effect, it's simply not necessary. " – Drunk Elephant Founder, Tiffany Masterson.
If you're not ready to spend the big bucks on Skinceuticals, I would HIGHLY recommend this one!
10.5% L-Ascorbic Acid
2% Ascorbyl Glucoside
Hyaluronic Acid
Infused with Hyaluronic Acid, our formula helps diminish the appearance of lines and wrinkles and improve skin texture. Carefully-formulated for all skin types, even sensitive skin.
Kiehl's chemists stabilized 10.5% Pure Vitamin C in a water-free formula more than 13 years ago and became pioneers in Vitamin C skincare products. Now, our formula includes 12.5% Vitamin C and Hyaluronic Acid.
This one is great to start off with. It has 10.5% L-Ascorbic Acid + 2% Ascorbyl Glucoside to visibly reduces the appearance of fine lines and wrinkles, as well as protect the face from the sun. If you're in college or new to the Vitamin C serum game, this one is 100% for you! I've recommended this to my younger sisters and they LOVE it!
Amazon Finds
There are tons of great amazon vitamin c serums out there too. The only thing I will have to say about those products is to make sure you're reading the label, not the product description. Many of them say "Vitamin C" but you must read which form or derivative of Vitamin C they are using. For instance, this highly rated product has sodium Ascorbyl Phosphate (SAP). If a vitamin C serum has SAP, then you should also know that SAP is stable at pH 7.
It's important to know the pH level so that you know you're using a STABLE serum otherwise, it can do absolutely nothing for skin and even worse it can also be potentially harmful, as mentioned above Vitamin C is a very unstable solution.
Let me know which Vitamin C you guys use and if you love it!